See on Scoop.it – Municipal politics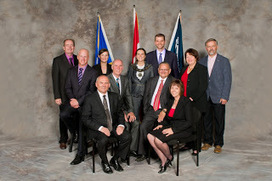 ruthseeley's insight:
This is Kennedy-esque rhetoric for the 21st Century and I wholeheartedly approve of – and agree – with the points Councillor Thomas makes here. All his points are compelling – but especially number 5 – "Seek first to understand" and number 6 – "If you are visibly absent from an engagement opportunity, it will get noticed and conclusions may get made that you won't like." In 2013, this means: do not set up a Twitter account unless you are prepared to actually use it and engage with people via that medium. Don't set up a blog that doesn't permit comments (although you'd better be prepared to moderate them). Ditto a YouTube account. Nothing enrages people more than not being listened to. And when you run for office, you are asking people to listen to you. A one-way conversation is called a monologue. Or a lecture. Or propaganda. Is that who you – seeking office as someone who represents others – really think you should be? If it is, you shouldn't be running for office.
See on www.middleagebulge.com